<![if !vml]>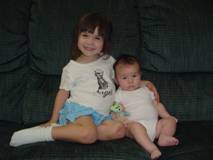 <![endif]>Kidís Kwarterly!
(as told by Karina)
September 2005
Hello everyone! I canít believe Iíve been in my new house for 9 months already. It seems like just yesterday I was playing with my friends in CA. Now Iíve got a baby brother and Iím going to school. I seemed to have grown up real quick somewhere along the way! What happened to my youth?†
<![if !vml]>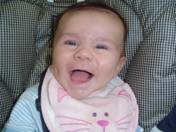 <![endif]>
So, Baby Zach is doing well. Heís good about not taking my toys. Itís probably because he canít crawl or walk to talk or really do anything but thatís fine by me. He can roll over now though. He started rolling around 3 months and is now fairly mobile just by turning and rolling around on the floor. He eats food now. Well, rice cereal which I guess you can call a food. Heís such a big boy too. And we just discovered the beginning of his first tooth! Thereís a teeny-tiny white part poking out of one gum. We thought he was teething because he was such a drooler and was fussy. I didnít get my first tooth until I was 9 months old but I got all four front teeth at once so whoís to say who ďbeatĒ who.†
My first day of school was Aug. 25. Mommy, Daddy and Granny and Grampa (and of course Baby Zach) brought me to school. I went to class with the other kids and the parents all went to another class to learn about school procedures. After school, everyone but Daddy (who has to work to support the lifestyle Iíve become accustomed to) came to pick me up and we celebrated by going to lunch <![if !vml]>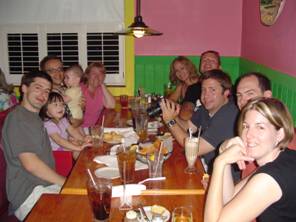 <![endif]>at Boston Market. I had macaroni and cheese, my favorite!
We went on some trips recently. The big visit was when the whole family drove down to Florida for Great Granny (GG) Oliveís 90th birthday. Aunt Mary and Uncle Geoff came to my house and drove down with us. They gave me books to read in the car. I was so entranced by the books and talking and playing with them that I forgot to cause trouble in the car. Even Zach was fairly well-behaved. Too bad Zach and I werenít organized enough to give Aunt Mary and Uncle Geoff a true ďtraveling with childrenĒ experience. Of course it was fun traveling with them and if we had let loose in the car, they probably wouldnít ever want to travel with us again. On the way to Florida, we saw Cousins Donna, Rodney and Jeffrey and doggie Shadow. While in Florida, we stayed at Uncle Matt and GG Helenís house and got to visit with them too. Uncle Matt gave me a little fan that I love playing with. Almost all the Adamseseses gathered for the party. It was good to see everyone and have them fuss over me J.
<![if !vml]>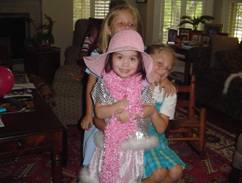 <![endif]>We also traveled to South Carolina and Georgia. We passed through South Carolina on my Cousin Alexís birthday. We had a party with her and got to eat cake and ice cream. We watched her open her presents and cousin Nico and I got a present too, a Barbie doll! Then we continued on to Georgia and stayed with our friends the Collinses. Granny and Grampa went to our relativeís wedding but Mommy didnít take us because our behavior couldnít be guaranteed. So we made plans to see our friend Danielle instead and had a great time.
Well, not much else is new I guess besides getting ready for my birthday party J. Visit our sites at: www.zacharyryanadams.com and www.karinaskyeadams.com. Weíll try to update them soon. I hope you are all doing well and that you miss me. I miss all of you. Keep in touch!
<![if !vml]>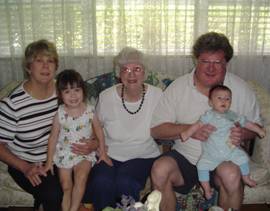 <![endif]>
<![if !vml]>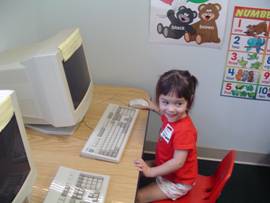 <![endif]>Love to you all,
Karina (and Zach) Adams