<![if !vml]>
<![endif]><![if !vml]>
<![endif]><![if !vml]>

<![endif]><![if !vml]>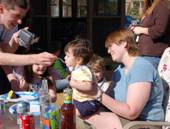 <![endif]>Kidís Kwarterly!
†(as told by Karina)
June 2006
Hello everyone! I canít wait to tell you whatís been happening. Weíve been very busy.†
Baby Zach is still growing. Iíve taught him how to walk so he can do that pretty well now. He tries to catch me but Iím too fast! He still only really says ďmommaĒ and ďbabaĒ but I guess thatís OK because he doesnít really seem to want anything else. Hmmm, what else. Oh, he had his 1 year birthday. We had a party here with a cake and everything. Neighbors and friends came and we all had fun, even Zach.
Iím in school for 2 more weeks and then it is summer! Iíve decided to go to a difference school in the fall. Itíll be a 4-year old program and Iíll go every day, all day. Itís closer to the house too so Daddy wonít be late for work when he drops me off in the mornings. Iím so excited.
Well, weíve gone on a lot of trips. In March we went to Florida to see GG, Uncle Matt and GG Olive. On the way home, we stopped in Georgia to see cousins Donna, Rodney and Jeffrey. After Mommyís birthday, we drove to MD for about a week. I like going to Grannyís house but itís kind of far away. But she has a nice playground in her neighborhood.
We had a nice time at Easter. Mommy, Zach and I went to an Easter hunt in a big park for the city of Cary. We also went to an Easter party at a friendís house from Daddyís work. They had baby chicks to hold, ponies to ride and games to play. Mommy was in an egg toss. She didnít win. Then, all the kids ran all around finding eggs. Some eggs had papers with numbers. After the hunt, they called numbers and everyone got to pick out prizes. It was so much fun! Then, for Easter, Granny came to town. It was great.
In May, we went to Florida. We stayed a night at GGís house and saw her and Uncle Matt. The next day, we saw GG Olive for lunch and brought her over to Cousin Jessicaís house to see the new baby. Little Baylan was so cute and it was great to see Cousin Jessica and Todd. For dinner, we met up with Cousin Jason and Uncle Wayne. We finally brought GG Olive back home after a family-filled day. We got to see so many Adamseseseseses. It was great!
We stayed at a timeshare in Palm Coast, Florida. We played at the beach with Daddy. Cousins Alex and Nico visited with Aunt Mary Hare. We went swimming in the pool. We also went to some festivals, went on a ferris wheel and other rides, rode on a pony and played at a park. It was lots of fun.
Well, weíre looking forward to Grandfather Adams and Janís wedding in July. Visit our site at: www.zacharyryanadams.com. It has all the latest pictures on it. I hope you are all doing well. Keep in touch!
<![if !vml]>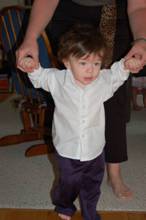 <![endif]><![if !vml]>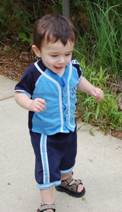 <![endif]>
Love to you all,
Karina (and Zach) Adams
422 Wayfield Lane, Cary, NC 27518, joshandstacy@kempt.net
<![if !vml]>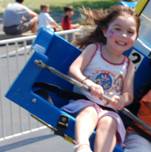 <![endif]>
<![if !vml]>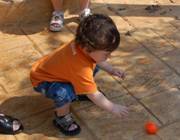 <![endif]>