Kidís Kwarterly!
June 2005
Hello everyone! Itís time for the second installment of my newsletter. The biggest news is that my baby brother was born but Iíll get into that later. Mom says I need to talk a little about him too. I donít see why this canít just all be about me! However, most of the last few months revolved around him so I guess he should be at least mentioned in this letter.
Letís see. When last I wrote to you all, we had just moved into my new house. I think Mommy and Daddy have finally adjusted to their new surroundings because theyíve finished unpacking their stuff. Mommy and I would go shopping sometimes and we donít get lost anymore. I have a few friends in the neighborhood too. Most of the kids that live near me are older. Daddy even had a lot of kids come over one day and paid them to help him tend the back yard. Mommy then gave everyone popsicles. That was fun!
<![if !vml]>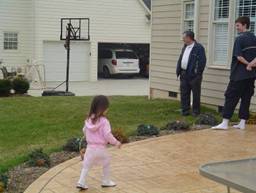 <![endif]>The week before Easter, Uncle Mark came to town on his spring break. That Friday, Granny and Grampa drove down so we could spend Easter at my house. Even my Godfather Eugene came for a visit. We had a lot of fun that weekend and I got to hunt for Easter eggs both Saturday and Sunday. Sunday night, Grampa and Uncle Mark had to drive back to MD to get Mark to school the following week. Granny was going to stay with us until the baby arrived.
So, the next day, Granny and Mommy and I went to the baby doctor appointment and something happened because we had to go to the hospital after. Mommyís blood pressure was high and they wanted to check her out. I donít see what all the fuss was, the same thing happened before I was born. Anyways, the results came in and the doctor decided to induce labor. This meant Baby Brother was coming early, just like I did. This also meant the end of my single life. I wasnít sure how I felt about this. I decided I would meet him and see if I liked him. If not, I would go home with Mommy and Daddy and he could stay at the hospital.
<![if !vml]>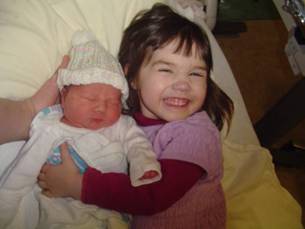 <![endif]>
After being in labor for a while, Mommy apparently wasnít working hard enough to get Baby Brother out because the doctor said C-section. I wasnít sure what this was but it seemed to upset Mommy a bit and Daddy had to change clothes. He looked like a doctor when he got dressed. I guess he was going to go help the other doctors. So they wheeled Mommy down the hall which was really cool because she just stayed in the bed and the whole bed went. †I wish my bed did that!
After a while, Mommy got wheeled back and I got to see Baby Brother. He didnít look too bad. He was kinda cute but that may be because he looked just like I did when I was born and of course I was so cute. Mommy and Daddy and Baby Brother stayed all week at the hospital and I got to go home to my house with Granny and Eugene. But we would visit at the hospital.† Eventually Mommy and Daddy named the boy Zachary Ryan. Not a bad name. But I like mine better.
<![if !vml]>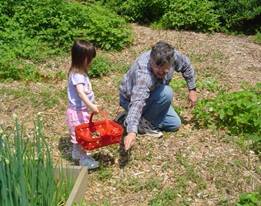 <![endif]>
Near the middle of May, Mommy, Baby Zach and I flew to MD to see the family. Daddy was going to E3 which is a big video game convention thing. We talked to him on the phone and he sounded like he was enjoying himself. I was enjoying myself too. Granny has a great park by her house and we got to go a few times.† I also got to help Grampa clean the backyard, plant flowers and stuff and pick asparagus. It was so much fun. Apparently Iím a good gardener. At the end of the month, Daddy came to town and we baptized Zach. We had a party after and everyone had a lot of fun. The next day we drove home. It was a fun trip.
<![if !vml]>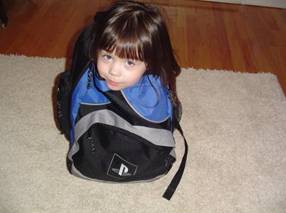 <![endif]>Itís getting hotter outside and we turn the air conditioner on sometimes. We didnít even have an air conditioner in California. The pool in our neighborhood is open now and I hope to go swimming soon. I love swimming in my bath tub and I canít wait to swim in a bigger version.
In a couple months Iíll be starting a preschool. Iím so excited. Iíll go two mornings a week and will learn a little Spanish and French. I canít wait! I know my alphabet (although I forget ďNĒ sometime) and can mostly count to 30 in English and 10 in Spanish so I think Iíll do well in school. Itíll be fun to hang out with other kids my age too. I canít wait! Iím ready, here I come world!
Well, not much else is new I guess. Zach has a website with pictures of him at www.zacharyryanadams.com if you wanted to see him. Of course a cuter kid can be seen at www.karinaskyeadams.com. I hope you are all doing well and that you miss me. I miss all of you. Keep in touch!
Love to you all,
Karina
<![if !vml]>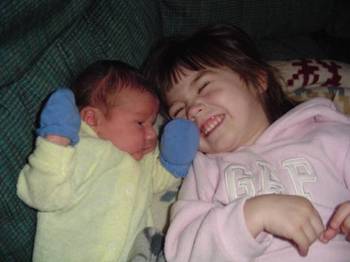 <![endif]><![if !vml]>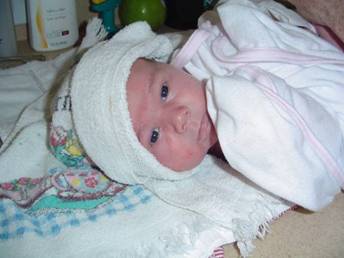 <![endif]><![if !vml]>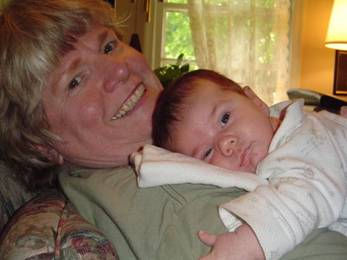 <![endif]>