Karinaís Kwarterly!
March 1, 2005
<![if !vml]>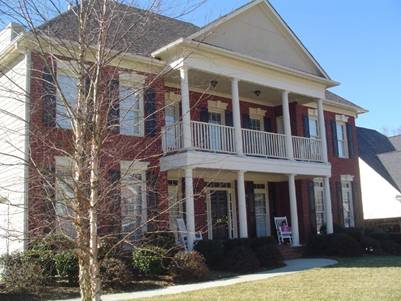 <![endif]>
I had this idea to send out a little news letter type thing a couple times a year to let you all know how Iím doing and what Iím up to. Iím not sure if Mommy can keep up so weíll see how many of these actually get sent out.
The year started off with us moving to NC. We had to live in a temporary apartment for a while because all our stuff was in a truck coming from CA. The truck was late by a few days which worried Mommy and Daddy. It didnít bother me so much. Finally everything arrived and there were boxes everywhere. They moved my crib into Baby Brotherís room and moved a toddler bed into mine. It looked like so much fun. Mommy cleaned it off and put sheets on it and I slept in it the first night. It was very exciting. Now Baby Brother can have my crib. Cribs are for babies anyways and Iím a big girl!
Every day after that, Mommy and I would unpack some boxes. I had such a good time but she seemed stressed. She kept turning on Sesame Street and Dora for me to watch on the TV. It was fun for a while and then I would wander off to see if she needed help. Sometimes she would let me for a while.
<![if !vml]>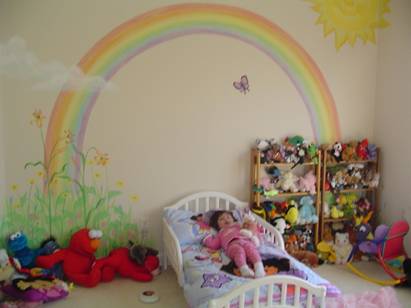 <![endif]>After much ado, we have finally settled into our new house. Daddy goes off to work every day and Mommy stays home and plays with me. Some days we would go out shopping to get things we needed for the house. I love shopping. Every day I want to go to the mall but Mommy doesnít always take me. I like going to the mall but my favorite store is Toys R Us. We went there to get a mattress for Baby Brotherís crib and some brand new Dora sheets for me!
I have some friends that I play with sometimes that live a few streets over. Their dad works with Daddy. Usually we play at their house but when it gets warmer theyíre going to come to my house and were going to jump in the bounce house in my back yard. I canít wait!
I still have no predictable sleeping or eating schedule. I like to keep Mommy guessing. Sometimes I wait until late to take my nap so I can hang out with Mommy and Daddy until about 1 am. They love that extra quality time with me! Other times I donít nap all day and pass out around 10:30pm or so after much grumpiness. Itís my way of exercising Mommyís patience so sheíll be ready for Baby Brother. Iím sure she appreciates it.
Granny came to town last week and there was a beauty pageant for kids. Mommy and Granny took me there and I won some trophies! I won for Prettiest Eyes, Best Body shot (which was based on one of my portraits) and then I won Grand Prize for my age group. I got a big trophy for that one and a little sparkly tiara. I had so much fun. I qualified for the state finals in Virginia but Iím not sure if weíre going to that or not. Iíve already proven Iím the prettiest little girl so why go and make other kids feel inferior? Let someone else have their time to shine J And why are the state finals in a different state?
My favorite thing to do these days is make messes. It gives Mommy some much needed exercise. Sheís getting quite a big tummy these days so I need to keep her moving. Aside from that, Iíve recently discovered puzzles. I need some help at first but after a few attempts with Mommy or Daddy, some puzzles I can now complete on my own. Even though I can do it on my own, I still try to get them to help me and whine when they donít. I want them to feel included!
Iím pretty excited about Baby Brother coming to town soon. Twice a week Mommy goes to the Baby Doctorís to make sure everything is going smoothly. Usually I get to go once a week or so with Granny (when sheís in town) or Daddy to entertain me. Mommy gets hooked up to a machine for about 15 minutes so we can listen to Baby Brotherís heartbeat. After about a minute Iíve had enough and start making Granny or Daddy earn their keep. But I like going to the Baby Doctorís office. They have lollipops!
<![if !vml]>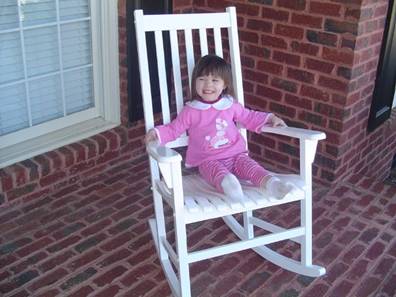 <![endif]>I guess thatís all thatís happened recently. Weíre getting ready for Mommyís birthday in March and then Easter. Granny, Grandpa and Uncle Mark are coming to my house for Easter this year. Also, my godfather Eugene is coming for a visit. I canít wait. Ever since Mommy told me Easter was coming, Iíve been asking to color Easter Eggs. I want them all to be pink and/or purple. Mommy wonít let me color eggs yet though. Who knows, maybe Baby Brother will decide to arrive early and can celebrate Easter with us. Apparently itís a definite possibility.
Well I miss you all very much. I still play with the little pieces of cloth that Sunni gave me. I still like wearing my Sunni and Greg T-shirt. We have Justinís school picture on our fridge and I take it down sometimes to show Mommy and we talk about Renee, David, Sarah and Justin.† I miss playing with Oriís Little Ponies and having my little friends over to my house. I miss going to the zoo with Lex. Mommy has talked about going to the zoo out here when it warms up but the zoo is about 1.5 hours away. Sigh, I donít see weekly zoo trips in my future.
I hope you all are doing well and that you havenít forgotten about me (as if that could happen!). Mommy and Daddy promise weíll visit sometime but after Baby Brother is old enough to fly so who knows when that might be. Iíll be all grown up by then and you might not recognize me! In the meantime, check out my pictures at www.karinaskyeadams.com and feel free to write to let me know how you are doing too.
Love to you all,
Karina